DESCRIPTION
Stay connected no matter where you are & no matter how far with your loved one.
When one person touches the bracelet, the other person's bracelet will vibrate and light up in response, with a small heart-shaped glow appearing at the center during the flash and vibration, creating a beautiful connection between them.
A short touch emits a "thinking of you" glow, conveying affection instantly. A longer press releases an enchanting "I love you" signal, unveiling more romantic ways to express emotions.
Personalized colors for each signal can be chosen in the app.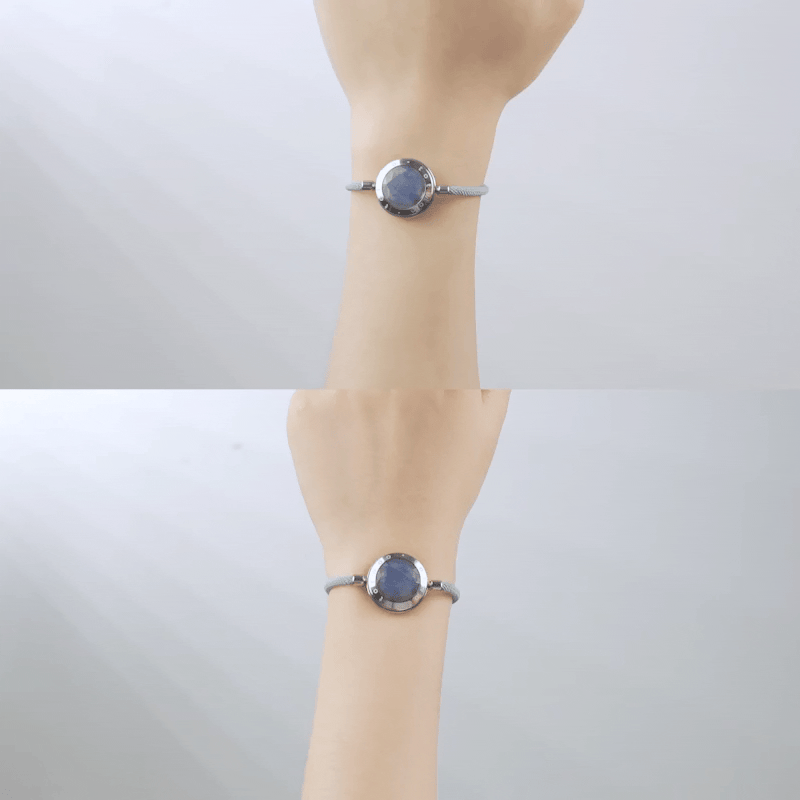 Aventurine increases opportunity and attracts luck.
From manifesting prosperity to increasing confidence, Aventurine does it all. The stone's surface is cut into diamond shapes, causing it to shimmer and shine as you turn it. The translucent material creates a dreamy sensation as light flashes through it: love shines amidst the azure morning mist.
Engraved with "My heart is, and always will be yours" from Jane Austen on the backside.

Deeply Connected More Than Ever
CREATE AND SHARE A UNIQUE CONNECTION
allows the bracelet to flash and buzz on your preference. The light and vibration intensity are adjustable. Feel your partner's love and touch on your wrist, always at the ready.
A SPECIAL PLACE FOR YOUR LOVE
the bracelets establish a close and private space for you and your significant other. Not only will the lights and reminders help you feel connected, but you'll also have a place to express your love through pictures, videos, audio, and text on the App. When your partner touches the jewelry, a surprise message pops up along with the bracelet's vibration and light display. You can even have a chat with your loved one on the App.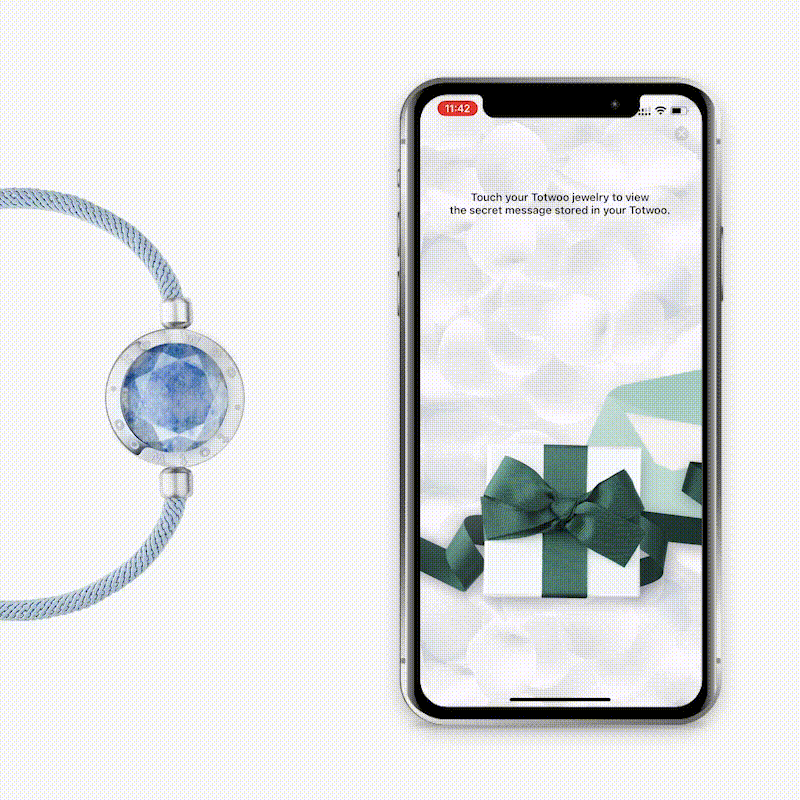 NEVER MISS A CALL FROM A LOVED ONE
Your totwoo bracelet reminds you of every incoming call from your loved ones. Add up to 3 important contacts in the App and the bracelet will alert you of an incoming call with a gentle flash or vibration.
KEEP THE SPECIAL DAYS IN YOUR HEART
With your bracelet, you'll be able to share all the special days and loving moments with your partner — even if you're worlds apart. The App can record the important days you share, and even let you know with flashes and vibrations when a special day arrives. A subtle reminder that you love each other is the perfect way to celebrate a birthday, anniversary, or shared memory.
TECHNOLOGY, ROMANCE, ART ALL IN ONE
another masterpiece in the leading smart jewelry industry with an advanced self-developed nb16 smart chip.
How does the bracelet work?
To send and receive touch messages, you just need to download the app on your Android or iOS smartphone. Make sure you have a stable internet connection (4g or Wifi)、 enable Bluetooth and keep your phone within 10 feet of your bracelet. Then, send a request to pair with your loved one's bracelet via the app to start sending touches!